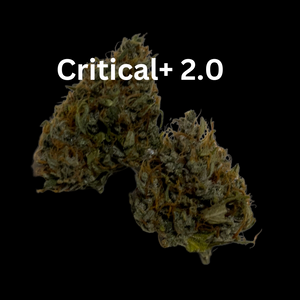 Buy Critical+ 2.0 THCa Flower
Introducing our exclusive offering: Critical+ 2.0 THCa Flower available for purchase. We are accepting all forms of payment including Cashapp for THCa flower! Elevate your cannabis encounter with this meticulously cultivated strain, now within your reach. Available in various quantities including grams, 8ths, quarters, half ounces, and ounces, buying THCa flower, specifically the sought-after Critical+ 2.0, has never been easier.

🌿 Strain Perfection:
Derived from the cherished Critical+ lineage, this rendition takes the experience up a notch. Enhanced with elevated THCa levels, the strain's innate characteristics are amplified, promising an unmatched sensory journey with every bud. Immerse yourself in an aromatic blend of earthy nuances and invigorating citrus hints that tantalize right from the start.

💎 Unparalleled Purity:
Crafted with utmost precision, our Critical+ 2.0 THCa Flower embodies the pinnacle of cannabis artistry. Cultivated under optimal conditions, each bud glistens with a pristine layer of trichomes, attesting to its exceptional potency and unadulterated quality. Prioritizing purity, we ensure a product free from harmful chemicals, guaranteeing an authentic experience.

🚀 Potent Effects:
Prepare for an adventure that caters to both newcomers and seasoned enthusiasts alike. The augmented THCa content in Critical+ 2.0 introduces a deeper spectrum of effects. Its high initiates a cerebral euphoria that gracefully engulfs you, promoting relaxation and introspection. Whether it's a burst of creativity or a tranquil respite you seek, this strain delivers with finesse.

🌟 Assorted Choices:
To cater to your preferences, we present Critical+ 2.0 THCa Flower in an array of quantities. Whether you're aiming to sample this exceptional strain with a gram or dive into an immersive experience with larger amounts, your desire to buy THCa flower, particularly the coveted Critical+ 2.0, is catered to precisely.

📦 Secured Packaging:
We recognize the significance of preserving this premium flower's delicate attributes. Our packaging is thoughtfully designed to safeguard the buds against light and moisture, assuring the arrival of each purchase in flawless condition. From the moment your order is delivered, your satisfaction is our unwavering commitment.

Experience the future of cannabis with the Critical+ 2.0 THCa Flower, now attainable for purchase. Elevate your moments, nurture your creativity, and explore new dimensions of serenity. Choose your preferred quantity and embark on a journey that encapsulates the harmonious blend of nature and cultivation. Order now to relish a cannabis experience that defines excellence. Buy THCa flower and indulge in the allure of Critical+ 2.0 today.