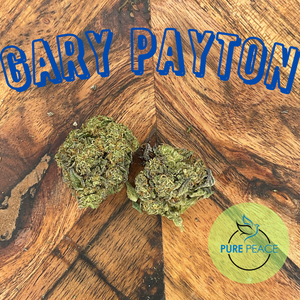 Gary Payton THCa Flower
🌱 Introducing the Gary Payton THCA Flower Strain!
Dive into a world of exceptional potency and unique flavor profiles with the Gary Payton THCA Flower Strain. Named after the legendary basketball player, this strain doesn't disappoint when it comes to delivering top-notch effects and rich aromas.
🔍 Product Highlights:
Superior Potency: With a high concentration of THCA, prepare for a cerebral elevation that's unparalleled.

Unique Terpene Profile: Experience a complex blend of earthy undertones combined with subtle hints of citrus and sweet berries. Each puff promises a rich tapestry of flavors.

Cultivated for Perfection: Our Gary Payton strain is meticulously grown, ensuring every bud offers consistent quality and effects.

Sought After Genetics: A hybrid delight that stems from a pedigree of powerhouse parents. Its lineage guarantees a balanced experience suitable for both day and night.

Rich in Cannabinoids: Apart from THCA, this strain is packed with a myriad of beneficial cannabinoids, offering a full-spectrum experience.
🌿 Uses & Benefits:
Whether you're looking to stimulate creativity, uplift your mood, or simply relax after a long day, the Gary Payton THCA Flower Strain has you covered. Its harmonious blend of effects make it a top choice for both medicinal and recreational users.
🏆 Awards & Recognition:
Our commitment to quality hasn't gone unnoticed. The Gary Payton strain has clinched numerous awards and continues to be a favorite among discerning cannabis connoisseurs.
---
Experience the legend in cannabis form. Order the Gary Payton THCA Flower Strain today and elevate your cannabis journey!