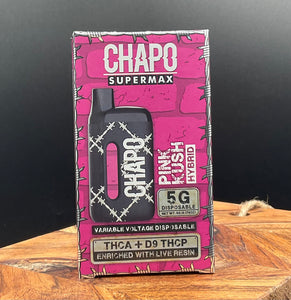 Chapo 5 Gram THC Live Resin Pen Pink Kush Hybrid
Indulge in the serene and soothing essence of the Pink Kush flavor profile with the Chapo Extrax Supermax THCa + D9-P Disposable 5g vape pen, exclusively available at PurePeaceCBD.com. Pink Kush, a Hybrid strain, is beloved for its calming and tranquil effects, making it an ideal companion for a relaxed evening unwind.

The Pink Kush flavor profile is a delightful journey through a garden in full bloom, delivering a fragrant bouquet of sweet florals with a hint of earthy undertones. Each draw envelops the senses in a soft, aromatic embrace, evoking a sense of peaceful tranquility.

Central to this harmonious blend is the infusion of live resin, meticulously captured to retain the authentic terpene profile of Pink Kush, enriching your vaping experience with robust and genuine flavors. Paired with the potent combination of THCa, D9-P (Delta 9 THCP), and Delta 8 THC, this blend offers a gentle, lingering relaxation that soothes both mind and body.

The device's elegant design is a blend of style and modern technology. Equipped with ceramic coil technology and dual ceramic coil induction, it guarantees a rich flavor experience and smoother draws with every puff. The pre-heat functionality and adjustable voltage settings, ranging from 2.4v, 2.8v, to 3.2v, allow for a customizable vaping escapade.

With the USBC rechargeable feature, your Pink Kush vape pen is always ready to provide a serene retreat. Operating with a user-friendly five-clicks on, five-clicks off mechanism, and a quick double-click for pre-heat, using this device is effortless.

Escape into a soothing vaping voyage with the Pink Kush flavor profile in the Chapo Extrax Supermax THCa + D9-P Disposable 5g vape pen. Your pathway to a calm and serene vaping experience is just a click away!